Former Israeli President Moshe Katsav's rape conviction hailed as victory for women
Women's rights activists hailed Moshe Katsav's rape conviction as a seminal victory for women's rights in Israel, which has a tradition of military machismo.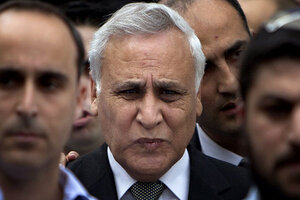 Oded Balilty/AP
Former Israeli President Moshe Katsav was convicted of rape and multiple charges of sexual misconduct by a Tel Aviv District Court today, making him the highest ranking Israeli official ever to be convicted and face jail.
The unexpectedly definitive verdict marked the conclusion of a four-year nationwide drama which pitted the word of the former president – who held a mostly ceremonial but highly symbolic position – against that of three anonymous former female employees.
The decision, handed down in a Tel Aviv district court, was immediately hailed as a major victory for women's rights in a society with a tradition of military machismo.
"It's a historic and significant ruling," says Miriam Schler, director of the Tel Aviv rape crisis center. "It will restore faith in the legal system that women can come forward. It's an important statement to women in the work place, and to men in places of power, that they can't abuse their office."
Judges: Katsav testimony full of lies
Katsav was convicted of two counts of rape and a count of committing an indecent act by force while he was Tourism Minister in the late 1990s. He was also convicted on counts of sexual harassment and indecent acts toward two other employees while he served as president from 2000-07.
The former president, who rejected a plea bargain agreement that would have omitted the rape charges, has consistently rejected all of the accusations of sexual misconduct.
---
Follow Stories Like This
Get the Monitor stories you care about delivered to your inbox.