Hezbollah-led pullout brings down Lebanon's government
Fearing the international indictment of some of its leaders for the 2005 killing of former Prime Minister Rafik Hariri, Hezbollah ministers resigned Wednesday, causing the collapse of Lebanon's coalition government.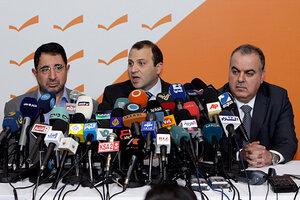 Bilal Hussein/AP
Lebanon's fractious coalition government collapsed Wednesday following the resignation of ministers representing the parliamentary opposition headed by the militant Shiite group, Hezbollah.
The dramatic move appears to herald a new escalation in the political drama over a six-year international investigation into the 2005 assassination of former Lebanese Prime Minister Rafik Hariri.
The decision by the Hezbollah-led opposition to leave the government follows the declared failure of a five-month mediation effort by Syria and Saudi Arabia, both of which have influence in this tiny but volatile Mediterranean country, to help resolve Lebanon's political deadlock.
RELATED: Lebanon tribunal on Hariri assassination set to issue first indictments
In announcing the resignation of opposition ministers, Gibran Bassil, the energy minister, said the decision was "constitutional and legal" and called for the creation of a new government "in order for it to perform its duties."
Lebanon's 30-seat cabinet requires the resignation of 11 ministers to topple the government. The opposition share amounted to 10 ministers, but Adnan as-Sayyed, a minister of state who represents Michel Suleiman, the Lebanese president, also tendered his resignation.
---