Palestine Papers backlash? Protesters rally for Mahmoud Abbas at Al Jazeera office
Amid Palestine Papers revelations, Mahmoud Abbas got a rare show of public support, though some question if it was staged.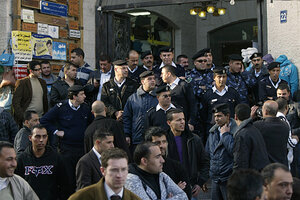 Majdi Mohammed/AP
Protesters stormed the headquarters of the Al Jazeera television station in the West Bank city of Ramallah on Monday afternoon, infuriated over the leak of confidential documents that reveal Palestinian negotiators offered Israel big concessions during peace talks over the past decade.
The leak of the so-called Palestine Papers has embarrassed Mahmoud Abbas, president of the Palestinian National Authority, but some 250 supporters rallied to his defense in today's demonstration.
"Al Jazeera is a Zionist channel!" protesters shouted as they ran up a set of stairs to reach the Qatar-based channel's seventh floor office. Shards of the door plaque, emblazoned with the channel's logo, flew down the stairwell, torn apart by demonstrators.
It was a rare show of public support for a beleaguered Mr. Abbas, although the apparent presence of Palestinian Liberation Organization officials and secret police in the crowd had some observers questioning the authenticity of the demonstrations and whether they truly reflected public sentiment.
---