Possible source of Palestine papers leak
Israeli TV has reported that the Palestine papers were leaked by a former staffer of the Negotiations Support Unit, a foreign-funded NGO that advises Palestinian negotiators.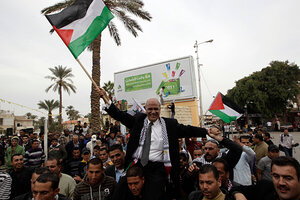 Ammar Awad/Reuters
As more details emerge from leaked Palestinian documents on peace talks with Israel, attention is focusing on what some believe to be the source of the disclosure to Al Jazeera: a tiny agency staffed by young policy wonks who advise the Palestinian leadership on talks with Israel.
The Negotiations Support Unit, an 11-year-old foreign-funded agency overseen by Palestinian chief negotiator Saeb Erekat, has impressed local, foreign, and even top Israeli counterparts as a highly professional research organization. It keeps track of past Palestinian negotiating positions, develops new stances, conducts legal research, and engages in public relations.
On Monday evening, Israel's Channel 10 television news named a former NSU staffer as the source of documents describing Palestinian willingness to make concessions on Jerusalem, the borders of a future Palestinian state, and the rights of Palestinian refugees.
A statement from the Palestinian Liberation Organization's Negotiations Affairs Department vehemently denied the report, but that hasn't dampened speculation.
---