Egyptians flood the streets, defying police and calling for regime change
Many Egyptian protesters came out for the first time, despite fears of violent confrontation as police cracked down hard, to call for the fall of Hosni Mubarak's regime.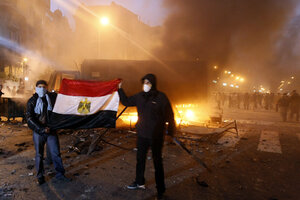 MOHAMMED ABED/AFP/Newscom
At Cairo's Mustafa Mahmoud mosque today, there was at first just the calm rustling of thousands going through the Muslim prayer ritual.
But when the prayer ended, first one voice and then thousands shouted, "The people want the regime to fall!" They poured out into the street, broke through a police cordon, and joined forces with other protesters to present the gravest threat to the regime of President Hosni Mubarak since he took power nearly 30 years ago.
By mid-afternoon, tens of thousands of Egyptians, braving tear gas and water cannons, were converging on Tahrir Square in central Cairo and protests were taking place across the country. Similar scenes were played out in hundreds of mosques in Cairo, Alexandria, and the gritty industrial towns of the Nile Delta.
A middle-aged woman in a Cairo crowd who had never participated in a demonstration before summed up the mood of a populace that, at least for today, has reached a breaking point.
"We didn't just come here because of inflation or rising food prices. We came because we want freedom, because we're tired of oppression, and because we hate the regime," she says.
---
Follow Stories Like This
Get the Monitor stories you care about delivered to your inbox.