Freed Google exec Wael Ghonim reenergizes Egyptian protesters
Wael Ghonim, an Internet activist who helped organize the Jan. 25 protests, was held in secret detention until yesterday. Protesters hold him up as a symbol of why the regime can't be trusted.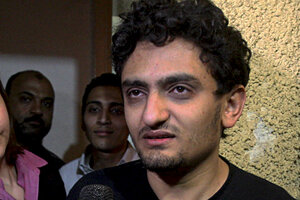 Ahmed Ali/AP
Tens of thousands of Egyptian protesters packed into Tahrir Square today with renewed purpose after Wael Ghonim, a young Google executive who helped organize the Jan. 25 protest that started the uprising, created one of the most dramatic hours of television in Egyptian history.
Mr. Ghonim headed straight to Egypt's Dream TV studio last night after being secretly detained for nearly two weeks, unaware of the full extent of the revolutionary forces he helped unleash. Watching a slide show of the youths who died at the hands of pro-government thugs while he was detained, one smiling young man after another, Ghonim broke down, wracked with sobs.
"I want to tell every mother and every father of the people who died, I am so sorry, I swear to God it's not our mistake," he said. "It's the mistake of the people who are in charge of the country and don't want to leave their positions." Unable to go on, he got up and left the set.
The interview with Mona Shazli, full of calls to patriotism, a rejection of political factionalism, and demands for democracy, struck the perfect political note and put steel back into a movement for democracy that was in danger in recent days of petering out due to government concessions and public protest fatigue.
"He inspired people," says Ahmed Naguib, the head of the organizing committee for the democracy protests at Tahrir Square, gesturing to the vast, flag-waving crowd. "He's a young man, he's a professional, and he was taken and abused at a time we were promised our rights would be protected. He's perfect evidence that the regime can't be trusted."
Two doctors from Mansoura, a city about 100 miles from Cairo, say the interview inspired them to join the protests.
---