Bahrain protesters took back Pearl Square. What next?
As angry young protesters continue to call for regime change from Pearl Square in the center of Bahrain's capital, Manama, opposition leaders met Sunday to discuss which demands they want to press in coming days.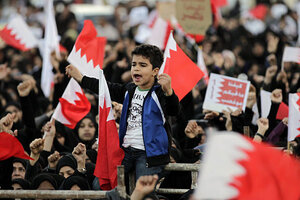 Hassan Ammar/AP
Just days after a brutal crackdown at the hands of Bahrain's security forces, protesters in the tiny Gulf Arab nation are feeling confident that their demonstrations will help oust the Sunni Muslim dynasty that has long ruled their majority-Shiite country.
Protesters flooded jubilantly back into Pearl Square in the center of Bahrain's capital, Manama, Saturday after troops pulled out following clashes Thursday night that killed four.
"Today we took [Pearl Square] back, tomorrow we take our country back!" said Ahmed Suwayha yesterday evening as threw up his two fingers to signal the victory anti-regime protesters felt they achieved after the troops pulled out.
Mr. Suwayha was one of thousands of antiregime protesters, many of whom were waving the country's red flag and chanting slogans such as "the king and his cronies don't speak for us." But as the young protesters in Pearl Square call for regime change and the immediate ouster of Prime Minister Sheikh Khalifa bin Salman al-Khalifa, who is an uncle of Crown Prince Sheikh Salman bin Hamad al-Khalifa, opposition leaders remain hesitant to press for too much at once.
Shiite opposition wants reforms ...
Inspired by events in Tunisia and Egypt, Bahrain's Shiite majority – which accounts for 70 percent of the population – is clamoring for reforms that would give it a greater voice in the government. But the ruling Sunnis that account for the other 30 percent have long been reluctant to make changes that would dilute their power.
---