Israel 'gravely' concerned as two Iranian naval ships approach Suez Canal
Two Iranian naval ships are set to pass through the Suez Canal for the first time since Iran's 1979 Islamic revolution. 'Israel views this Iranian step gravely,' said Prime Minister Benjamin Netanyahu.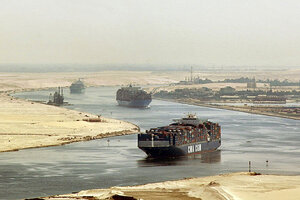 AP/File
Iran is projecting the long arm of its military by sending naval vessels to the Suez Canal in attempt to cross through to the Mediterranean for the first time since the 1979 Islamic revolution.
In an action deemed ''grave'' by an Israel already uneasy over the ouster of Egypt's Hosni Mubarak, two Iranian ships are set to traverse the canal Monday en route to Syria – an Iranian ally and Israeli enemy.
The step ratchets up tensions between the rival regional powers at a time of unprecedented turmoil in the area following revolutions in Tunisia and Egypt and mass protests in Yemen, Bahrain, and Libya. And while Israeli security specialists disagree on the severity of threat the ships pose to Israel, they agree that the move is part of Iran's efforts to project its clout at a time when the regional balance of power appears to be shifting its way.
---