Iraqi officials bend to protesters' demands
Prime Minister Nouri al-Maliki said he would personally oversee food rationing for the poor, while Baghdad's provincial chief promised to fire corrupt officials. A major rally is planned for Friday.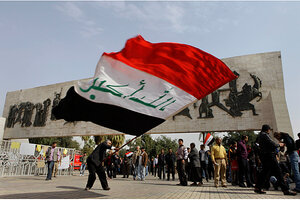 Khalid Mohammed/AP
In an apparent bid to deflate a major protest planned for Friday, the head of Baghdad's provincial council on Tuesday promised to fire corrupt and inept officials, while Prime Minister Nouri al-Maliki announced that he was personally overseeing the availability of sugar and other items provided to the poor.
"We have listened to the demonstrators," said provincial leader Kamal al-Zaidy, after meeting with council members and parliamentarians to address a lack of government services. "There are some departments whose performance is decreasing in a way that would make the Baghdad provincial council be ready to take essential decisions to fire executive staff."
Iraqis inspired by protests sweeping the Arab world have been airing their grievances in the street almost every day. Much of their anger is directed at officials they blame for electricity cuts, lack of jobs, and lack of government services in a country believed to have the world's second-largest oil reserves.
Countries in the Middle East where the 'winds of change' are blowing
For officials, the daily demonstrations have been a gauge of simmering discontent that in some places have bubbled over into public rage. Iraqi parliament speaker Osama al-Nujaifi, a member of the opposition Iraqiya party, suspended parliament for a week on Monday, directing lawmakers to go out to their home constituencies to listen to complaints and try to find solutions.
---