Egyptians protest in Tahrir, angry over new cabinet
Egyptians say not enough has changed since Mubarak fell two weeks ago today. The protest shows that toppling a dictator is but the first step in the uprisings sweeping the Arab world.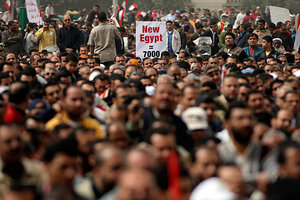 Khalil Hamra/AP
Egyptians returned to Tahrir Square today to push for the fulfillment of the revolution that swept former president Hosni Mubarak from power two weeks ago.
Protesters say not enough has changed so far, and are particularly angry that the new cabinet sworn in this week is still headed by Prime Minister Ahmed Shafiq, a Mubarak loyalist who was appointed by the former president himself before he was toppled.
"This is not what hundreds of people died to achieve," says Mahmoud Ahmed Metwaly, a curator at Mohamed Mahmoud Khalil museum who participated in the protests from the beginning and watched as some protesters were shot by snipers. "Ahmed Shafiq is a student of Mubarak. We have demanded a new beginning, and Ahmed Shafiq is not a part of it. We refuse him."
The protest underlines that in Egypt, as in Tunisia, toppling the dictator is only the beginning. Erasing a deeply-rooted regime of corruption and injustice may prove the most difficult part.
A month after the popular uprising began, the emergency law that has severely curtailed civil freedoms since 1981 is still in effect. And the security apparatus of the state is still intact. The newly appointed cabinet features some new faces but retains veterans such as Mr. Shafiq in key posts. The military council now ruling the country has asked to the cabinet to remain until new elections are held.
---