Opposition declares new Libya government as Qaddafi hangs on
Two key cities in Libya's west appeared to fall to opposition forces this weekend as leaders in the country's 'liberated' east moved to fill the governance vacuum that Qaddafi's ouster would create.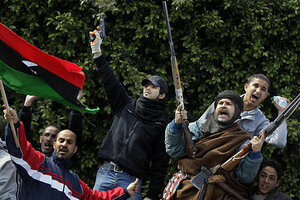 Ben Curtis/AP
A key city in western Libya appeared to have been taken completely out of Muammar Qaddafi's grasp today, as opposition forces in Libya's 'liberated' east made initial, symbolic steps toward creating a new transitional government.
Zawiya, about 50 miles west of Libya's capital, Tripoli, has been the scene of vicious fighting in recent days. Residents told the Monitor by phone that the center of the city has been cleared of Qaddafi's loyalists, and opposition forces have even seized a few tanks. This account meshed with reporting from the Associated Press, which has a reporter on the ground in Zawiya.
Yesterday, Misurata, another strategic western town, fell and Qaddafi's writ now seems mostly confined to Tripoli and his hometown of Sirte. Between the two locations, he appears to have at least 10,000 heavily armed men under his command, and they've already shown a willingness to use heavy machine gunfire and anti-aircraft guns on lightly armed protesters.
Unlike in Egypt or Tunisia, two neighboring countries that drove out their dictators with relatively little bloodshed, Qaddafi's Libya doesn't have true functioning state institutions. While in those two countries a long-time ruling elite remains largely in control of state bureaucracies (angering many democracy protesters) when Qaddafi goes, there will be an enormous vacuum.
Libya's constitution? Qaddafi's own "Green Book," a rambling screed about something called democratic socialism. Here in Benghazi and the rest of the east, the book -- required reading for all schoolchildren -- has already been pulled from the bookshelves and in most cases burned.
---