Yemen wild card: Tribal loyalties
Faced with deadly protests, President Saleh has turned to tribal leaders for help. But a key sheikh's renunciation of Saleh this weekend in favor of protesters adds to rumblings of civil war.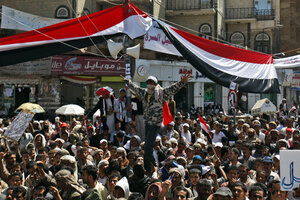 Hani Mohammed/AP
Wadi Dahr and Sanaa, Yemen
In an elegantly built stone house, a group of men from the Hamdan tribe gather not far from the palace where former Yemeni ruler Imam Yahya spent his summers in the 1930s and '40s.
Amid the cigarette smoke and din of raised voices, a sheikh from the tribe explains that, like the imam, President Ali Abdullah Saleh depends for his power in large part on the tribes whose territory surrounds Sanaa. The canyon, known as Wadi Dahr, is located an hour outside the capital.
"Imam Yahya called the seven tribes the seven cows, because he had to feed them so much money to keep them loyal to him," explains the sheikh, who does not want to be identified due to fears of reprisal. "Saleh forgot this saying and now it is costing him. He is trying to make up for the last few years with handouts of money and cars, but I think it may be too late for him. He has made too many enemies."
This weekend, the embattled Saleh regime lost a key tribal and political ally when Sheikh Hussein bin Abdullah al-Ahmar resigned from President Saleh's ruling party, the General People's Congress. Speaking before several thousand tribesmen in the Yemeni city of Amran, 30 miles north of Sanaa, his calls for Saleh to step down were met with chants of, "Down with Saleh, down with the regime."
Because the sheikh is a leading figure within one of Yemen's two main tribal confederations and a member of one of Yemen's wealthiest and most powerful families, his resignation and support for antigovernment protesters threaten to increase tensions between Yemen's tribes, which are divided on whether to support Saleh.
A number of media outlets have reported that the two main tribal confederations, the Hashid and the Bakil, have thrown their support behind the antigovernment protesters. But some tribes within those confederations still remain allied with the president.
---