Mistaken for mercenaries, Africans are trapped in Libya
African workers left behind as international companies evacuate and African embassies close are trapped in a Benghazi camp, too afraid to take the trek to Egypt's border.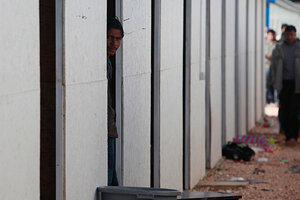 Asmaa Waguih/Reuters
Up a muddy clay road next to the University of Gar Younis in Benghazi lies a work camp, with some 52 rows of white prefabricated housing surrounded by a fence. Dozens of Africans greet visitors eagerly, "Are you from the UN? Are you here to help us? Please help us, we need help."
These foreign workers, left behind as international companies close up shop and embassies evacuate their employees, are in a double bind.
Libyans don't trust them, and they don't trust the Libyans. Since reports circulated that Qaddafi hired African mercenaries to kill opposition forces, several suspected mercenaries have been caught, beaten, and even killed, and many of the Africans in this camp fear stepping foot outside the compound.
"We can't go out on the street here," says Salu Abdulyakini, an electrician from Ghana who has worked for a Turkish construction company for more than two years. The managers of his company left the country on Feb. 19, after violent attacks in Benghazi left around 100 dead and over a thousand injured.
After the managers of the work camp left, looters attacked. They destroyed offices and broke open safes. "They shot in the air to make us afraid, they took everything. They even took our food!" says Mr. Abdulyakini, adding that it was no safer in the streets of Benghazi. "One friend of ours went to town at 10 in the morning to buy something, and two Libyans attacked him with knives and took all his money. Other people have been threatened, 'We'll kill you.' "
1 in 3 missing a passport
---