Take the fight to Qaddafi? In eastern Libya, not yet.
In eastern Libya, thousands of young men are signing up to fight Qaddafi. But at one checkpoint, the lack of any professional military leadership suggests a move on Tripoli is unlikely quite yet.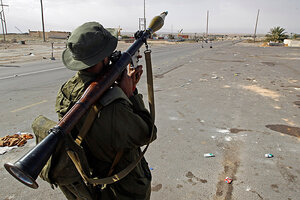 Goran Tomasevic/Reuters
At the last checkpoint on the west side of Brega, where edgy young men are stockpiling rocket-propelled grenades and missiles against a rumored assault by forces loyal to Muammar Qaddafi, the question of "who's in charge here" helps explain why Libya's strange, low-intensity war could burn for some time yet.
The answer? Nobody. Or, somebody. Or, "the people," depending on which of the checkpoint's defenders you ask.
The reality is that the 100 or so men mustered at this point on the road toward Sirte, where a convoy of Qaddafi loyalists rumbled past yesterday morning in an effort to retake Brega and its oil terminal, don't appear to have any professional military leadership at all.
Today, Libyans in Brega and Adjadbiya say there were bomb attacks by fighter jets loyal to Qaddafi, but as in the past, the bombs fell harmlessly.
Thousands of young men are signing up for a citizens' militia in the city of Benghazi, 100 miles to the east, and say they're eager to take the fight to Qaddafi in Tripoli. But here on the soft front line of Libya's war, that seems unlikely, at least any time soon.
Qaddafi controls the next town, about 25 miles farther west. While regular Army and special forces units who defected to the rebellion in Benghazi say they're preparing to push forward as far as Brega, there is no clear evidence yet that they or their commanders are willing to throw themselves into the fray.
---