How Egypt's protesters will change US ties
The new Egypt is likely to emerge as more independent, diverging from US wishes in certain areas – such as reaching out to Iran. But the allies still have long-term common interests.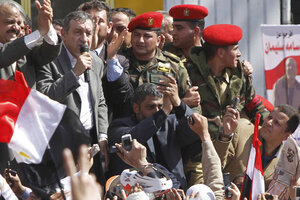 Mohamed Abd El-Ghany/Reuters
Egypt's popular uprising toppled the leader of the nation that is a cornerstone of US policy in the Middle East, raising concerns that America could lose its leverage with a key ally. The strength of protests in Tahrir Square today, nearly six weeks after the revolution began, demonstrates that popular pressure is likely to play a key role in shaping the post-Mubarak era.
But while the new Egypt is likely to emerge as more independent and willing to diverge from US wishes in certain areas, it will simultaneously seek to maintain good ties with its American ally, say analysts. Charting a more independent course could help Egypt regain some of the regional clout it has lost over the past decades as it stagnated, partly as a result of its support for US policies.
"The nature of the relationship is going to change, but we're not talking about a fundamental realignment in bilateral US-Egypt relations," says Shadi Hamid, director of research at the Brookings Doha Center. "The focus is going to be on rebuilding Egypt, and US support and assistance is going to be essential in that process. But it will take on a different flavor.… It's not going to be a patron-client relationship anymore."
Popular pressure for harder line on Israel
While Egypt's new leaders won't be elected for several months, when they come into power they will be under pressure to change Mubarak-era policies that were deeply unpopular. In particular, Mubarak's support for Israel was a source of anger to many Egyptians.
---