Qaddafi strikes back at Libya rebels' western advance
Forces loyal to Libyan leader Muammar Qaddafi pushed back Sunday against a rebel advance toward Mr. Qaddafi's hometown of Sirte from Libya's 'liberated' east.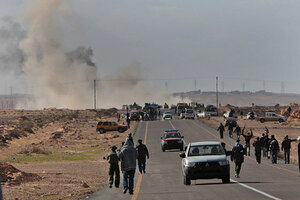 Hussein Malla/AP
Yesterday, militiamen in Libya's "liberated" east were flush with easy victory. They'd taken the key oil terminal at Ras Lanuf after sharp fighting on Friday. And on Saturday they rolled further west into the coastal town of Bin Jawad with hardly a shot being fired.
This morning, they were vowing to press west to Muammar Qaddafi's hometown of Sirte, his last stronghold on the Libyan coast before the capital, Tripoli.
But then a hard reality set in.
The Libyan civilians-turned-militiamen – a growing number of whom are referring to themselves as mujahideen or "holy warriors" – didn't consolidate their position in Bin Jawad overnight. Some rushed forward, others returned to Ras Lanuf to sleep, leaving nothing like an organized occupation force in Bin Jawad.
At mid-morning today came the counterattack, with pro-Qaddafi militiamen moving in behind air strikes on the road west of town from fighter jets. Rebel positions were also shelled.
Meanwhile, an air strike this morning targeted rebel positions in Ras Lanuf, about 20 miles west of Bin Jawad. Qaddafi has focused most of his bombing efforts on weapons dumps in recent days, seeking to deny the rebels access to more arms, but these bombs – which landed harmlessly in the desert – appeared to be aimed at the rebels themselves.
---