In disorganized surge, Libya's rebels push west along shifting front line
In three days, the nominally rebel-controlled zone on the eastern coast has extended about 150 miles. The rebels are now drawing closer to Sirte, Qaddafi's hometown.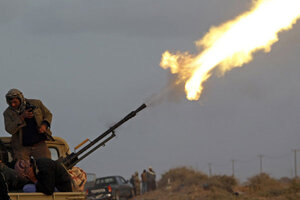 Goran Tomasevic/Reuters
Ras Lanuf and Bin Jawad, Libya
Sitting in the bed of a pickup rumbling full throttle toward the frontlines of the Libyan opposition's struggle against Muammar Qaddafi, Salim Fatah bin Kayali grins into the wind and insists "there's no stopping us now."
The bookish and deeply pious young man is sharing a 25-year-old AK-47 with a friend from his hometown of Derna and admits he's never fired the weapon before.
He participated with rocks and Molotov cocktails in the fight to drive Qaddafi's forces from Derna, in eastern Libya, two weeks ago, and says he's eager to do "whatever I can for our revolution. Qaddafi is a terrorist, and he's divided our people and stole our money for too long." His father – who was jailed for seven years after a business deal he made with a relative of Qaddafi's soured -- produced the old rifle when his son insisted he was heading west.
But today, Mr. Kayali was destined for disappointment along with his truckload of would-be rebel fighters, as the front line kept shifting ever westward before they could catch up.
Kayali is part of a disorganized surge west of pickups, private sedans, and ambulances carrying doctors and medical supplies. Under way for days, it is also bringing food provided by businessmen in Ajdabiya and Benghazi, ammunition salvaged from military bases, and about a thousand men determined to take the fight to Qaddafi.
---