After Libya, Egypt, and Tunisia, what comes next?
Pro-democracy warriors in Middle Eastern countries such as Libya, Egypt, and Tunisia push through barriers of fear only to find a constellation of needs, demands, and problems on the other side.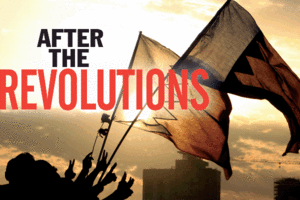 AP Photo/John Kehe staff illustration
The night the dictator fell, the euphoric scenes in Cairo's "Liberation" Square encapsulated like nothing else the promise of democratic change sweeping across the Arab world.
For those sweating amid the crush of the crowd during that moment of history in Egypt on Feb. 11, the monumental challenges that await were briefly subsumed by the full-blooded joy on the streets. Egyptians were in shock, as their courageous upheaval against the three-decade rule of Hosni Mubarak also toppled longstanding conventional wisdom of Arab politics marked by apathy and incompatible with democracy. But those blessings are not welcomed by all, as the question of "What next?" looms.
For Umm Karim – a poor mother of four whose family has been reduced to one meal a day – the unrest has meant misfortune, so far at least. Her two breadwinning sons have been jobless since the paper factory where they worked was burned down during protests, making it impossible for the family to pay for regular food, much less rent.
"I wish this revolution never happened," Umm Karim tells the Monitor, as a young neighbor boy clings to her knee, chewing on a door key. Businesses across her town of Al-Maraziq, 25 miles north of the epicenter of the uprising at Tahrir Square, have been disrupted. Confined to the family's one-room apartment, her sons now argue and fight. Even Umm Karim's small state pension of about $21 hasn't been paid.
But a neighbor takes issue with Umm Karim's pessimism: "You don't understand," says Maghdi Said, who farms and has factories. "The revolution is not for me. It's for you. In the future there will be more jobs. It's only a matter of time before it improves."
---