Dams power Turkey's future, but drown its rich history
Cultural and natural sites are being submerged as Turkey races to double its power output by 2020.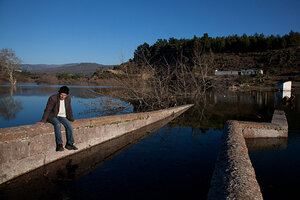 Jonathan Lewis
The stunning mosaics, courtyards, and passageways of the 1,800-year-old Roman spa complex of Allianoi were so dear to archaeologist Ahmet Yaras that he named his daughter after the Ilya River that ran by them.
As he now witnesses its waters rise and engulf the ruins he has fought so hard to save, he says their disappearance beneath the reservoir of a new irrigation dam feels like the loss of a child.
"This is the murder of history," says Dr. Yaras, who formerly headed the excavation team that found some 11,000 artifacts during a decade of digging at Allianoi – work that unearthed only 20 percent of the site.
The Yortanli dam is part of an unprecedented hydro­engineering program launched by the Turkish government to maintain the country's rapid economic development.
It is also one of the flash points in the battle between Turkey's government and an increasingly vocal lobby of activists and academics who fear the plans will exact a devastating toll on the country's rich historical and ecological wealth.
1,300 new plants to power Turkey's economic development
Mert Bilgin, a professor specializing in energy policy at Istanbul's Bahcesehir University, acknowledges that poor oversight has maximized the environmental damage associated with the projects. But he says Turkey's need to increase its energy output could hardly be more urgent as the country strives to fulfill its dream of becoming a major economic power.
In 2010, energy imports cost $40 billion, accounting for nearly half the country's foreign trade deficit. This cost is set to soar since Turkey needs to double its power capacity by 2020.
---