Qaddafi air strikes intensify, unnerving Libya rebels
As NATO and UN powers debate whether to impose a no-fly zone on Libya, rebels on the eastern front in Ras Lanuf are feeling the pressure from stepped-up air strikes.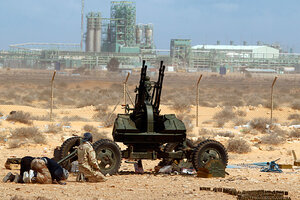 Goran Tomasevic/Reuters
In the past 24 hours, pilots loyal to Muammar Qaddafi have peppered rebel positions on the eastern front of the Libyan war, creating few casualties but feeding the growing unease of an uprising that has stalled.
"If we didn't have to fear the planes, we'd be advancing much more quickly," claims Mohammed Abdel Salim, one of hundreds regular army soldiers who defected from Qaddafi's regime in mid-February and is now helping to organize the civilian militia just west of Ras Lanuf. "We completely reject foreign troops here, but we want help against his planes."
The increasing tempo of bombing raids around Ras Lanuf, an oil export and refining hub about 150 miles from Benghazi, the rebellion's de facto capital, came as NATO planners met in Brussels to consider the practicalities of extending a no-fly zone over Libya.
Britain and France are supporting a draft resolution at the United Nations calling for action to be taken. But China and Russia, always wary of international support for uprisings, are unlikely to support a no-fly zone at the UN Security Council.
---