Qaddafi bombs oil facility in blow to Libya's oil infrastructure
A rebel position at Libya's Ras Lanuf came under withering fire today as Muammar Qaddafi's forces set an oil tank ablaze at a key export terminal.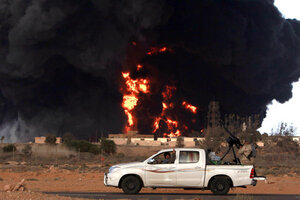 Asmaa Waguih/Reuters
Fighting continued to intensify today around the Libyan port of Ras Lanuf, which is bracketed by two of the country's most important petrochemical complexes, as forces loyal to Muammar Qaddafi used grad rockets, mortars, and air strikes in an attempt to retake the area.
Late this afternoon, at least one air strike set a massive oil tank ablaze at the Sidra oil export terminal about six miles west of town, the first time Libya's oil infrastructure has been damaged in the month-long uprising.
Mr. Qaddafi claimed the oil tank was set ablaze by "Al Qaeda" fighters working with the rebels, despite multiple witnesses saying it was hit by one of his planes. Rebels also said the pipeline that delivers crude from southern fields to the port was damaged in the attack, but this could not be confirmed.
At least four rebels were killed in the attack, said a doctor at the Ras Lanuf hospital. In the mid-evening today, pro-Qaddafi forces were maneuvering with tanks near the entrance to Sidra port.
Meanwhile in the west of the country, rebels in Zawiyah reportedly also faced a second day of indiscriminate tank fire and heavy casualties. The simultaneous military moves show that while Qaddafi is desperately attempting to retake Zawiyah – an important flank just 30 miles from his base inside the capital – he is also seizing the chance to inflict a crushing blow to the rebellion here in the east.
---