Netanyahu fails to appease Jewish settlers outraged by brutal attack
Israeli Prime Minister Benjamin Netanyahu approved hundreds of new homes to be built in major settlement blocs. But settlers in farther-flung areas such as Itamar feel exposed, and threaten to take justice into their own hands.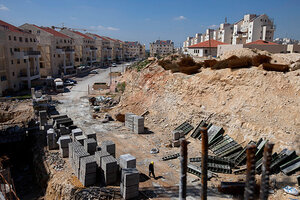 Oded Balilty/AP
The stabbing deaths of an Israeli couple and three of their children Friday night in the Jewish settlement of Itamar has stoked concern about a deterioration of a broad calm prevailing in the West Bank, as well as new blow to negotiations. Palestinian militants are suspected to be behind the attack, which took place in the northern West Bank near Nablus.
In a bid to mollify outraged settlers – including a small minority with a record of vigilantism – Prime Minister Benjamin Netanyahu approved hundreds of new homes in the West Bank settlements over the weekend. A statement from his office said the projects are "measured" and are located in large settlement blocs near the border between the West Bank and Israel, areas which Israel insists it will keep under any deal with the Palestinians.
The Itamar attack is making it more difficult for Mr. Netanyahu to maneuver between hard-line coalition allies pressing for retribution and an international community that views Israel's insistence on settlement activity as an obstacle to talks. The US criticized his government's announcement of new housing units, while settlers dismissed it as insufficient. They say Israel's relaxation of movement restrictions on Palestinians leaves them exposed, and prioritize security over Israel's ties with the US.
"What happens if you respond, will America do something to you?'' challenged Tamar Fogel, the couple's 12-year-old daughter, when Netanyahu paid a condolence visit. She was not at home at the time of the attack, which two of her brothers also survived.
---