Rocket fire rains on crucial Libya town as Qaddafi's forces advance
Rebels fled from the eastern Libya town of Ajdabiya, seen as key to the success of the uprising against Muammar Qaddafi, as it came under a heavy air assault today.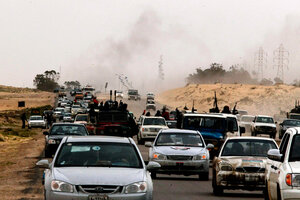 Goran Tomasevic/Reuters
Ajdabiya and Benghazi, Libya
Muammar Qaddafi's forces started a sustained aerial barrage on the eastern Libyan town of Ajdabiya today, sparking a panicked retreat of rebel militiamen and civilian families from a city that rebel leaders had insisted was their line in the sand.
Rocket fire and air strikes repeatedly hit the densely packed town of 100,000. "The rockets destroyed two houses on my block," says an Ajdabiya resident by phone. "Some of my neighbors must have died. The international community has sold us to Qaddafi."
Dozens of rebel cars and pickup trucks withdrew from a town that yesterday they were insisting they'd fight desperately to hold, since just east of it is a network of roads that act as a gateway to liberated eastern Libya. "We have to hold on here," Saheer al-Saidi, a militiaman at a rebel command post inside town, said yesterday. "Qaddafi will be arresting and killing thousands if we lose."
In the early evening, rebel leaders claimed they still had forces inside the city and residents said there were no signs of combat. Members of uprising's national council in Benghazi said that Ajdabiya had not fallen, though they've provided inaccurate reports about the situation in other towns in the past.
---
Follow Stories Like This
Get the Monitor stories you care about delivered to your inbox.