Libya declares cease-fire as EU leaders plan military strikes
France, which spearheaded last night's unexpectedly strong UN Security Council resolution on Libya, said today that strikes on Muammar Qaddafi's forces would commence 'soon.'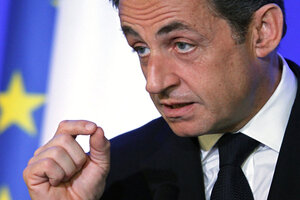 Charles Platiau/AP
European leaders moved quickly to mobilize military assets against Muammar Qaddafi's forces following an unexpectedly strong resolution from the United Nations Security Council, even as Libya declared a cease-fire.
French officials said Friday morning that military strikes against Libyan forces surrounding Benghazi would commence "soon." British Prime Minister David Cameron affirmed that British forces were prepared to attack by air a wide range of Col. Muammar Qaddafi's military, including heavy weaponry that he said threatened "a city of a million people … an ancient city" – the de facto rebel capital of Benghazi.
France, Britain, and Lebanon led the charge for a UN Security Council resolution passed Thursday evening with crucial backing from the US. Expected to authorize only a "no-fly" zone, the council instead moved to "Chapter Seven" status, the most robust option for intervention, which allows for protection of civilians and humanitarian aid using "all necessary measures."
---