UN decision on Libya: Endgame for Qaddafi?
The immediate hope is that the threat alone of international action in Libya will slow Qaddafi down – and perhaps cause some of his supporters to back the rebels instead.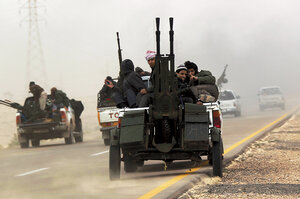 Goran Tomasevic/Reuters
The United Nations Security Coun­cil's rare – and unusually swift – decision to approve "all necessary measures" to protect civilians from Muammar Qaddafi's regime has lifted the hopes of Libya's ragtag militias.
It remains uncertain, however, whether Resolution 1973 can shift the momentum in rebels' favor after a week of pummeling that brought loyalist forces within 90 miles of their power base in Benghazi.
Libya had declared a cease-fire in compliance with the UN resolution. But the mercurial Qaddafi, who has served longer than any other Arab leader in power and has vowed to fight to his "last drop" of blood, is almost certain to test the willingness of UN members to make good on their March 17 decision.
The immediate hope of France and Britain, who have taken the lead in insisting on protecting the Libyan uprising, is that the threat of action alone will slow Qaddafi down – and perhaps sow doubt in the minds of some of his supporters that they're backing the right horse.
"A lot of people are marginal supporters and ... they may turn against him," says Paul Sullivan, a Libya expert at Georgetown University in Washington. "My gut feeling is there will be enough pressure externally to change the tide slowly at first, and then more and more people will jump on board."
---