Despite Libyan claims, little evidence of civilian casualties
Libyan state media showed images of those it claimed were killed and wounded in ongoing Western airstrikes, but civilian casualties have been difficult to independently verify.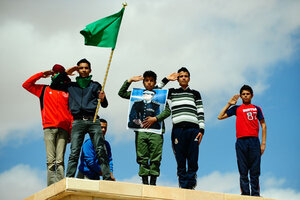 x99/Zuma Press/Newscom
Libyan officials denounced the Western air campaign as inhumane after allied forces hit Tripoli overnight Wednesday with some of the biggest strikes yet seen in the capital and fresh attacks that began after dark Thursday.
Even as forces loyal to Libyan leader Muammar Qaddafi reportedly continued offensives against rebels in several cities, state TV blamed the "crusader aggression" for attacking both military and civilian targets and showed images that it claimed were of those killed and wounded by the strikes.
Qaddafi's government has claimed dozens of deaths since the United Nations Security Council authorized "all necessary measures" to protect civilians from Qaddafi loyalists.
Libya timeline: Airstrikes put pressure on Qaddafi in Misratah
But evidence of casualties has been thin, despite more than 160 cruise missile strikes by US and British forces, and at least 175 sorties by those and French and a Canadian jet fighter in the last 24-hour count.
The civilian death toll nationwide was "getting close to 100," government spokesman Musa Ibrahim claimed late Thursday. He said the Libyans had received "intelligence" that allied forces would strike broadcasting and telecommunications infrastructure overnight.
---