Syrian cabinet resigns as Assad seeks to quiet rising dissent
Assad supporters rallied in Syria's capital today ahead of a Wednesday speech in which the embattled president is expected to outline new reforms.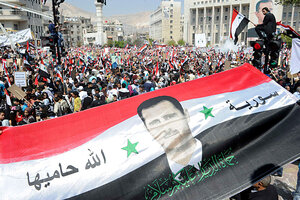 Wael Hmedan/Reuters
Hundreds of thousands of Syrians gathered in Damascus and several other cities Tuesday in a massive display of support for the beleaguered regime of Bashar al-Assad, the Syrian president.
The huge rally, possibly the largest seen in Damascus, was an attempt to bolster the regime after two weeks of unprecedented protests, which have left more than 100 people dead and cast into doubt the durability of the Assad family dynasty that has ruled Syria for four decades.
Buoyed by the outpouring of support, Mr. Assad is scheduled to address parliament Wednesday and unveil a list of reforms that the regime hopes will put a lid on the unrest.
Much of central Damascus was given over to the rallies in support of Assad with government ministries and state-run institutions closed to allow employees to attend the event. Syrian flags and posters of Assad lined the streets. Similar rallies were held in Aleppo, the largest city in Syria.
In a first indication of impending change, the Syrian government headed by Prime Minister Najib Ottari resigned Tuesday. SANA, the state-run news agency, said that Assad had accepted the cabinet's resignation and asked Mr. Ottari to stay on in a caretaker capacity pending the creation of a new government in the coming days. The new cabinet is expected to implement whatever reforms Assad announces in his address to parliament.
What the reforms will include
---