Italy rejects Qaddafi, recognizes Libyan rebel government
Italy today became the third nation to recognize Libya's rebels as the legitimate government, dealing a blow to attempts by Muammar Qaddafi and his sons to negotiate a diplomatic settlement.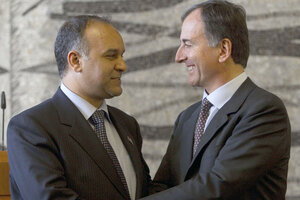 Andrew Medichini/AP
Rebels battling the Libyan government of Col. Muammar Qaddafi rejected on Monday a diplomatic initiative that would keep Libya's ruling family in power, as Italy became the third nation to recognize the rebels as the legitimate voice of the Libyan people.
"Any solution for the future of Libya has a precondition: that Qaddafi's regime leaves… That Qaddafi himself and the family leave the country," Italian Foreign Minister Franco Frattini said on Monday, after meeting with a rebel foreign envoy in Rome.
Italy is the third nation to recognize the rebels, after France and Qatar, and did so on Monday as reorganized rebel units began a push to reclaim the oil town of Brega from loyalist forces.
Libyan officials in Tripoli had earlier expressed optimism that a negotiated solution could be found, as an envoy of Colonel Qaddafi traveled from Greece to Turkey to Malta. But Mr. Frattini dismissed the Qaddafi government's proposals as "not credible" because they did not discuss the removal of the "Brother Leader" Qaddafi after nearly 42 years in power.
---