Why US silence on Bahrain's crackdown could backfire
For the fourth time in two weeks, a detainee died in police custody. Witnesses say his body, like the others, bore signs of abuse.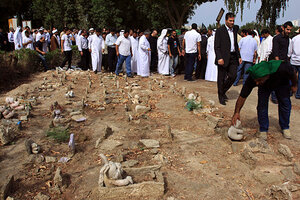 Hasan Jamali/AP
As Bahrain's government intensifies its campaign to crush dissent, the world has been largely silent – embittering protesters and potentially creating an opening for Iran to expand its influence and undermine US-Saudi interests in the region.
In the past week, activists and others who speak out against the Bahraini government's campaign are increasingly being arrested and others have reported threats to themselves or their families. Security forces have targeted the nation's majority Shiites for beatings and arrest at checkpoints, and conducted near nightly raids on homes of activists and ordinary citizens. This week a fourth detainee died in police custody in less than two weeks, and witnesses said that his body, like the others, bore signs of abuse.
Bahrain protests: Five key facts
Bahrain's government has also sought to wipe out the political opposition, arresting politicians and briefly shutting down the nation's only independent newspaper. Today the Ministry of Justice announced it has begun proceedings to shut down Bahrain's largest opposition group, the Shiite bloc al-Wafaq, in a move that further confirms that Bahrain's Sunni rulers are not interested in a political solution to the crisis.
The silence of the world, and particularly the US, in the face of this campaign is galling to ordinary Bahrainis who oppose the crackdown, who watch the world condemn rulers in Libya, Syria, and Yemen without a mention of Bahrain.
---