Israel's wall cements psychological divide between Arab, Jew
Many Jews and Arabs miss the daily interactions they had, whether at farm stands or in antique shops, before Israel's security barrier was erected.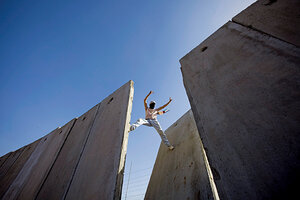 Bernat Armangue/AP/File
Qalqilya, West Bank; and Kfar Saba, Israel
Rashad Zeid, a Palestinian farmer who lives not far from the bustle of Tel Aviv, once sold his crops to Israeli acquaintances – chatting with them in Hebrew as they paid for cabbage or cauliflower.
But now Mr. Zeid's world ends abruptly at a high wall of gray concrete erected by Israel to protect its citizens against Palestinian suicide bombers. Just beyond the wall bordering his fields lies Kfar Saba, a Tel Aviv suburb of 85,000 that was once part of his customer base.
Nearly eight years after it was first erected, the controversial wall snaking through verdant fields and dusty hillsides has become a permanent fixture of the landscape. It has also cemented a psychological divide between Israelis and Palestinians, undermining the prospects for lasting peace that could not only end hostilities but boost economic prosperity.
"Since they built it, Israelis don't see the Pales­tin­ians and they don't want to see the Palestinians. And there is a new generation growing up in the West Bank, and they don't even know Hebrew," says Gal Berger, who covers Palestinians for Israel Radio. "That's a problem for the long term. There's growing alienation."
Both sides understand that the multibillion-­dollar phalanx of electronic sensors, patrol roads, concrete slabs, and concertina wire could be removed under an eventual peace deal.
---