Bahrain sentences four protesters to death, deepening anger among Shiites
A military court today sentenced four Shiite demonstrators to death, and handed life sentences to three more, for the deaths of two policemen. Rights activists say the detainees were tortured and denied legal rights.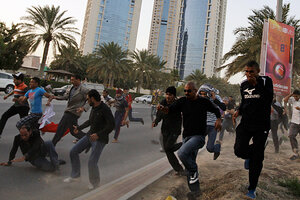 Hassan Ammar/AP
A Bahrain military court today sentenced four antigovernment Shiite demonstrators to death after finding them guilty of murdering two policemen during protests that have rocked the small kingdom.
The death sentences take the Sunni government's crackdown against protesters and the Shiite population to a new level, deepening anger among the majority Shiite population and stoking sectarian divisions.
"This is a period of punishment and of purging that's intended to weaken the opposition, to intimidate the opposition, and probably to put so much pressure on the opposition that it will fragment and it will be consumed with infighting," says Jane Kinninmont, senior research fellow at the Chatham House think tank in London.
Bahrain protests: Five key facts
The trial was the first legal action the government has brought against protesters whose uprising began in February calling for democratic reform, but a government official said Wednesday that it would not be the last.
Trial stokes social divisions
Human rights activists say the two-week trial, held behind closed doors with lawyers and the press forbidden to speak or write about it, ignored international rights standards and that false confessions were likely forced by torture. Three other demonstrators, all from the majority Shiite population, were sentenced to life in prison, after the government said they confessed to using vehicles to run over the policemen.
---