Bin Laden's death puts exclamation point on Al Qaeda's demise
A threat remains from the Al Qaeda core as well as the splinter groups it inspired. But bin Laden's global terrorist franchise and its grand vision of challenging 'imperialist' America is waning.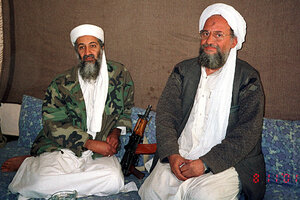 Hamid Mir/Ausaf Newspaper for Daily Dawn/Reuters
Osama bin Laden meant everything to Al Qaeda. Founder. Charismatic cheerleader. Principle fundraiser.
But his death may end up meaning very little to a terrorist group that has been in a long, slow period of decentralization and decline. While Al Qaeda and its offshoots are likely to plot fresh attacks, and Mr. bin Laden has an obvious successor in his deputy Ayman al-Zawahiri, the franchise's grand vision is unlikely to hold the appeal it once did under the Saudi terrorist leader.
Yes, bin Laden was the face of Al Qaeda, a revered figure among the jihadi wannabes who haunt militant chatrooms, where his continued survival made him a potent symbol of defiance.
"Whether bin Laden provided material assistance or not to actual terrorist attacks, his act of survival provided spiritual sustenance to supporters," says Ray Takeyh, a Georgetown professor and senior fellow in Middle Eastern studies at the Council on Foreign Relations. "That's been removed."
Bin Laden's likely successor
Mr. Zawahiri, an Egyptian cleric, is haughty and droning with little of bin Laden's ability to inspire others to carry out terrible deeds. All this makes bin Laden's death a loss for the traditional core of Al Qaeda based in Pakistan.
---