Bahrain's abuse of dissenters: four detailed cases
A pattern of widespread abuse emerges from these cases, including detention without trial, beatings, and lack of access to lawyers and family.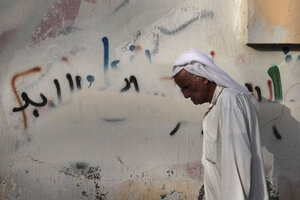 Hasan Jamali/AP
Dubai, United Arab Emirates
The first sign that Bahrain's security forces were going to detain former Bahraini parliamentarian Jawad Fairooz came at 8:30 p.m. May 2, when about 30 masked men carrying submachine guns broke down the front door of his house.
"What are you doing in my house?" Fairooz's wife screamed as the men, some in military uniforms, flooded into the front hall. One pointed a submachine gun at her head. "Where is Jawad?" he demanded.
Fairooz, a graduate of the University of Texas at El Paso, had been elected to the Bahraini parliament in 2006 and again in November 2010, but he'd resigned in February to protest police violence against peaceful demonstrators who were demanding democratic reform, Bahrain's response to the "Arab spring" toppling of dictatorial regimes in Egypt and Tunisia.
Now he was about to feel the brutal force of Bahrain's crackdown on the opposition.
Fairooz is one of about a dozen prominent opposition leaders and human rights advocates now behind bars in the island kingdom, home to the US Navy's 5th Fleet. President Barack Obama referred to them in his speech last week on the Middle East, in which he pointedly told Bahrain that "you can't have a real dialogue when parts of the peaceful opposition are in jail."
A detailed examination of Bahrain's arrest and treatment of the dissidents shows widespread and systematic abuse that raises questions about whether the country's Sunni Muslim government has crossed a line beyond which it can't restore social peace in the predominantly Shiite Muslim country.
---