Egyptian graffiti artist Ganzeer arrested amid surge in political expression
Mohamed Fahmy, who goes by Ganzeer, was one of three artists briefly arrested today on the eve of massive protests. His work is part of a wave of political and revolutionary graffiti on Cairo's streets.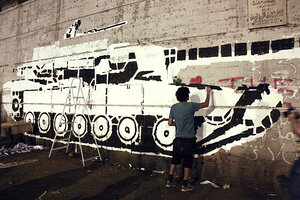 Kristen Chick
Updated at 2:35 p.m. with news of Ganzeer's release.
Egyptian security forces briefly detained three artists hanging posters in Cairo today ahead of major protests tomorrow – a "second revolution" in the words of activists, who are impatient with the pace of reform under Egypt's interim military rule.
"New…The freedom mask," read the poster, depicting a masked head and gagged mouth. "Greetings from the Supreme Council of the Armed Forces to the beloved people. Now available in the market for an unlimited time."
The poster was designed by Mohamed Fahmy, an artist known as Ganzeer who was arrested today along with film director Aida El-Kashef, and musician Adel Rahman Amin (a.k.a. NadimX). His work is part of a wave of political and revolutionary graffiti that has sprouted on Cairo's streets as Egyptians let loose the political expression that was suppressed for years.
"People forget that the streets belong to the people," said Ganzeer in a Monitor interview at his studio before his arrest. "They think that they're some kind of official government-controlled entity. I think it's important to remind people that they're not."
One of Ganzeer's latest images: Tank vs. bicyclist
With his tank art, murals of Egyptians killed in the revolution, and other political graffiti, he's been doing just that, along with dozens of other artists.
---