Egyptians rally in Tahrir Square for 'second revolution'
Egyptian protesters see a need to keep pressure on the country's interim military rulers, but some warn that their impatience could thwart their ultimate goals.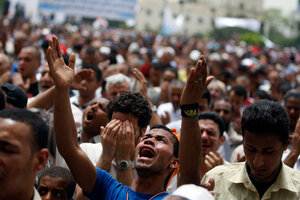 Khalil Hamra/AP
More than three months after Hosni Mubarak was ousted from presidency, tens of thousands of Egyptians converged on Tahrir Square for what some are calling a "second revolution." While they have ousted their dictator, many are impatient with the pace of change under Egypt's interim military rulers and see a need for steady pressure.
They saw the announcement this week that Mr. Mubarak will be tried for killing more than 800 protesters as vindication that their strategy is working. Now, they're redoubling efforts to ensure that their other demands are met.
"If we put on more pressure, we will get more results," says Waleed Rashed of the April 6 Youth Movement, an organization that started as a Facebook group in 2008 and became one of the instigators of the Egyptian revolution. "We want to always remind the military and the government that we are here and we are following them day by day."
Many attended today's "second day of rage," a reference to the Jan. 28 protests that resulted in violent clashes with police, because they are displeased with the performance of the Supreme Council of the Armed Forces and they want to see faster trials of Mubarak and members of the former regime. They want to speed up democratic reform. Others were there to denounce military tribunals; activists say thousands of Egyptians have been unjustly convicted since late January.
"The people in charge are still corrupt," said Egyptian blogger Mostafa Sheshtawy as friends greeted him in Tahrir Square. "We are ... the people who can build this country."
No unified set of demands
---
Follow Stories Like This
Get the Monitor stories you care about delivered to your inbox.