In Yemen, celebrations and confusion after Saleh leaves
Fireworks lit up the sky last night after embattled President Ali Abdullah Saleh left Yemen to Saudi Arabia for 'medical treatment,' but loyalist forces continue to battle tribal fighters.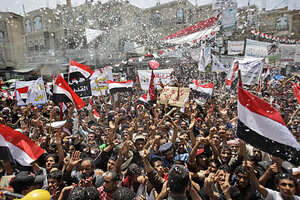 Hani Mohammed/AP
A myriad of colors lit up the sky in Yemen's capital, Sanaa, last night.
Celebratory fireworks were launched from Change Square as news broke of Yemeni President Ali Abdullah Saleh's departure to Saudi Arabia for what the Yemeni government called "medical treatment" resulting from minor injuries it says he sustained during an attack on his presidential compound Friday.
Government officials insist Mr. Saleh will return and resume power after being treated, but Vice President Abd al-Rabo Mansur al-Hadi has been named acting president in Saleh's absence.
The celebrations – most intense among the thousands of protesters who've been living for months in tents just outside Sanaa University and in other camps around the country – were interrupted at around 9 p.m., however, by the familiar sound of shelling.heard as artillery pounded the al-Habasa district of Sanaa where loyalist military forces and anti-government tribesmen have been battling for almost two straight weeks.
A cease-fire brokered by Saudi mediators earlier on Saturday had only held for a matter of hours. And while celebrations continued, residents and some protest leaders weren't convinced that Saleh's departure was the end of violence.
"This is not the end, by any stretch of the imagination," says Jamal Nasser, spokesmen for the Coordinating Council of the Youth Revolution of Change, Yemen's largest protest organization. "I just don't feel like celebrations are appropriate at this point."
Too early to celebrate?
While Saleh took most of his family with him to Saudi Arabia, his son Ahmed, commander of the Republican Guard, and his nephew Yahyha, commander of the Central Security Forces, remained behind to continue Saleh's military campaign against the tribesmen in Sanaa.
---