Yemen's Saleh injured in escalating violence as residents scurry for shelter
A spokesman said Yemen's President Saleh was only slightly injured in an attack on his compound, but the president's failure to appear on TV tonight raises questions about his condition.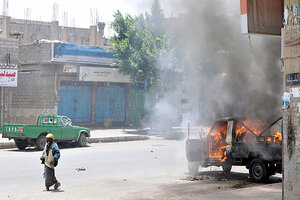 Yemen Lens/AP
Updated at 4:00 p.m. ET with news of Saleh's radio address.
Turmoil erupted in the affluent Hadda district of the Yemeni capital this afternoon as fighting erupted near the home of prominent tribal leader Hamid al-Ahmar. Several moments later, mortar shells struck the presidential compound, injuring President Ali Abdullah Saleh and several other prominent officials.
Residents scrambled from restaurants, leaving their lunches on the table as rocket-propelled grenades flew across a major thoroughfare. Some of the locals, already armed as a precautionary measure, dove behind cars and upturned tables and began firing randomly in desperate confusion.
"Get out, can't you hear the artillery?" screamed one shop owner at confused residents as he slammed the steel doors of his store shut.
Fighting in Sanaa over the past 10 days has been the fiercest clashes in the capital since 1962, when a revolution launched to topple a despotic imam ended in victory for the republicans – a group of rebel soldiers that included Mr. Saleh, who eventually became president in 1978. Now he faces an unprecedented challenge from tribesmen, rebels, and southern secessionists who have joined forces to oppose his 32-year rule.
Saleh TV appearance postponed until he recovers
Presidential spokesman Adel al-Jandi confirmed on state TV that a mosque at the presidential compound was shelled during Friday prayers, killing three members of Saleh's elite Republican Guards and some other officers. He said Saleh himself was slightly injured but was in good health.
State TV had originally announced that Saleh would speak to the nation in a televised address, but later reneged and said the president would issue a press statement later Friday evening. Mr. Jandi was less specific, saying the president would speak once he was recovered. While the president did give a radio address later tonight, speaking in a labored voice, his failure to appear on television raises speculation that his injuries may be more severe than originally reported by local Arabic press.
---