Yemen's Saleh cedes Al Qaeda hotbed to militants. Why?
President Saleh, increasingly embattled as civil unrest spreads and tribal leaders intensify their fight, says that Al Qaeda seized the capital of Abyan province. But residents saw no evidence of a fight.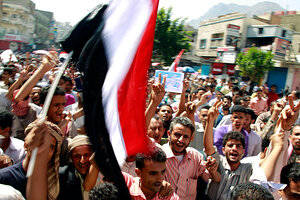 Khaled Abdullah/Reuters
A fragile cease-fire between Yemeni President Ali Abdullah Saleh and the powerful Hashid tribal confederation was broken early this morning, resulting in the most intense fighting yet in this conflict between tribe and government.
The fighting comes on the heels of an escalation of violence this weekend, during which at least 40 protesters were killed by Yemeni security forces in the southern city of Taiz. In addition, Mr. Saleh ceded control of Abyan, a southern province known for Al Qaeda militancy, claiming that its capital of Zinjibar had seized the city by force.
But an independent analyst and rebel military general said there was no fighting, suggesting that Saleh had sought to create a diversion to challenges to his authority elsewhere in the country. The president has long been accused of playing up the Al Qaeda threat in order to present himself as indispensable to preserving Yemen's stability and security, particularly in the eyes of the West.
"Saleh has historically exaggerated the threat of Al Qaeda in the hopes of securing money, military assistance, and a blind eye from Western partners," says Gregory Johnsen, a Yemen specialist at Princeton University.
Indeed, Saleh has stressed time and again in his infamous Friday speeches that, should he be forced to relinquish power, Al Qaeda will sweep in and take over the entire country.
---