As Yemenis run low on gas and food, revolution could take off
Since protests began earlier this year, Yemen's currency has plummeted, oil production has dropped, and food prices have risen by as much as 45 percent.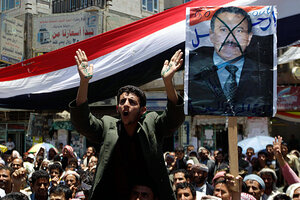 Ammar Awad/Reuters
Yemeni security forces and plain-clothes gunmen opened fire on thousands of demonstrators marching through Sanaa Sunday night, leaving at least 15 wounded from live ammunition, according to doctors at the field hospital. Hundreds more were treated for the effects of acute tear gas inhalation, spilling out from the grounds of the makeshift clinic.
"There were thousands of us marching peacefully when baltageya [thugs] and the military opened fire on us from the street and rooftops," says Mohammad Ali Al-Sanari, who was being treated after security forces beat him with clubs.
The chaotic scene at Sanaa's protest area comes amid more than two months of political deadlock that has threatened the country's stability. More than 100 people have been killed since protesters began demanding the president's departure in January.
But equally threatening to Yemen's security may be the rapidly deteriorating economy.
RELATED: Think you know where Yemen is? Take our Middle East geography quiz.
Yemen is the poorest country in the Arab region, with nearly half of its 24 million people living below the poverty line. More than 35 percent are unemployed. With attention currently diverted to politics, the nation's already frail financial situation appears to be crumbling. With antigovernment protests continuing to grow each week, some believe that the effects of the unraveling economy could push Saleh closer to departure.
---