Golan protests: Is Syria's Assad stirring up trouble with Israel?
While the Golan Heights returned to a tense calm today, yesterday's clashes signaled increased turmoil ahead – perhaps spurred by Syria's Assad as he battles revolt at home.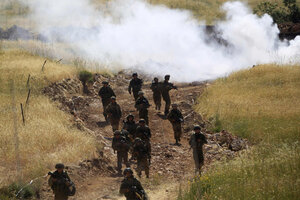 Ronen Zvulun/Reuters
Mount Bental, Golan Heights
The border between Israel and Syria remained tense but quiet a day after Arab marches on the Israeli-controlled Golan Heights left as many as 23 dead and hundreds wounded.
The marches commemorated the defeat of Arab armies at the hands of Israeli forces in 1967 and the consequent displacement of hundreds of thousands of Palestinians. They marked the second showdown in three weeks between pro-Palestinian protesters and Israeli soldiers.
Despite the easing in turmoil today, Israeli officials and analysts suggest that the quietest Arab-Israeli frontier for the past three decades could see more turmoil going forward.
They posit two potential reasons: Syrian President Bashar al-Assad, weakened by nearly three months of domestic revolt, may either intentionally stir up trouble with Israel to distract from his own brutal crackdown. Or he may simply be too focused on quelling internal dissent to prevent pro-Palestinian protesters from directly confronting Israeli soldiers in the Golan.
"In normal times, the Syrian army wouldn't enable them to do it," says Alon Liel, a former director general of the Israeli foreign ministry. "Now probably the Army doesn't care because it serves Assad's interests."
Worst violence since 1973
From a mountaintop overlooking the Quneitra border crossing, there was no sign today of a repeat of Sunday's processions. Israeli police maintained roadblocks around the Golan Heights to prevent civilians from reaching the conflict zones. A military spokeswoman said there were no protests today in Syria opposite the Golan Heights Druze village of Majdal Shams, the site of showdowns yesterday and during Nakba protests on May 15.
---