Bahrain campaign to humiliate Shiites goes beyond politics
Bahrain's crown prince is set to visit the White House and Secretary of State Hillary Clinton today. The US has remained largely silent amid harsh criticism of Bahrain's brutal crackdown.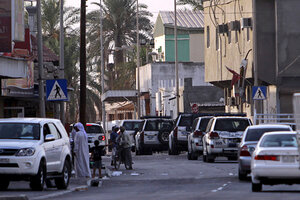 Hasan Jamali/AP
Ayat Al Gormezi penned a naughty poem about Bahrain's prime minister last February, questioning his parentage. In another poem, she imagined a conversation between Bahrain's king and the devil. Then she read her rhymes in public, which got posted on YouTube in the early days of Bahrain's uprising when the country was electric with hope and excitement.
But the government quickly turned on pro-democracy protesters like Ms. Gormezi, who was picked up on March 30, two weeks into a brutal, ongoing crackdown.
In the first week of her detention, she was blindfolded, beaten, and forced to stand for hours while her abusers repeatedly played a CD of her YouTube readings, according to people familiar with her case. They forced open her mouth and spat into it. A female officer stuck a toilet bowl brush into her mouth. She was given electric shocks to her cheeks. In graphic language, male security officers described how they were going to rape her, though they never did. She was not allowed to call her family.
Last week, she was charged by a military tribunal with breaching public security by participating in a public gathering, insulting the king, and inciting hatred and contempt for the government.
Al Gormezi's ordeal and hundreds of others documented by Bahraini and international human rights groups underscore a deeply troubling aspect of the Bahraini government's policy of repression: Apart from quashing political dissent, the Sunni-led government appears bent on psychologically humiliating the island's Shiite majority into silent submission.
"The only reason I can see for being detained is that I'm Shia," says one recently released detainee. "I didn't do anything.... Basically they are terrorizing us ... financially, psychologically, and physically. It's war against us. So what are we doing here?"
---