Syria's regime cracks down hard. But is the military on board?
Syrian troops are attacking the northern town of Jisr al-Shughur, which has a history of rebellion against the regime. Increasingly, however, there are reports of dissent within the military.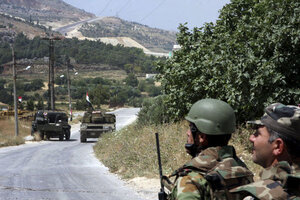 Bassem Tellawi/AP
Syrian troops backed by tanks and helicopters pressed ahead Sunday with a two-pronged attack against a rebellious town in northern Syria, amid reports of clashes and the sound of explosions and gunfire.
But amid conflicting reports about the violence it is still unclear who the Syrian forces are supposed to be fighting in Jisr al-Shughur, a mainly Sunni-populated town of 45,000 residents.
The regime of Syrian President Bashar al-Assad says it is targeting "armed criminal groups" inside the town responsible for killing 120 soldiers and security personnel June 6 in a series of ambushes and attacks. The opposition does not dispute the casualty figure but says the fighting was between troops loyal to the regime and army deserters who sided with local protesters. Foreign journalists are banned in Syria and determining the truth is almost impossible.
According to accounts from opposition sources, most soldiers who are alleged to have deserted are now hiding under the protection of protesters rather than directing their weapons against the security forces. If army deserters are not shooting back and if the majority of Jisr al-Shughur's population has indeed fled as reports suggest, it would appear to add credence to the regime's claims that armed groups are roaming the area.
This is not the first time Syrian troops has come down hard in Jisr al-Shughur, which along with the surrounding area in northern Syria has a history of rebellion against the Assad regime. In March 1980, an anti-regime demonstration turned deadly when protesters burned down the headquarters of the ruling Baath Party and raided a nearby army barracks, stealing weapons and ammunition.
---