Did a Jerusalem court really sentence a dog to death by stoning?
The BBC, Agence France Presse, and Time magazine all erroneously reported that a rabbinical court in Jerusalem had sentenced a dog to death by stoning. How did they fall for it?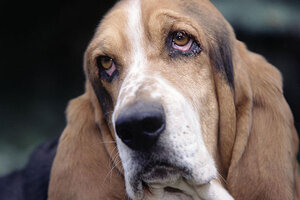 Index Stock Imagery/Newscom/File
Have you heard the one about the dog who walked into a rabbinical court?
Here's how the BBC reported it: A pooch made its way into a beth din in Jerusalem's ultra-Orthodox neighborhood of Mea Shearim. One of the judges, believing the dog to be the reincarnation of a now-deceased lawyer whom the court had cursed some two decades earlier, sentenced the dog to death by stoning, and ordered that the sentence be carried out by children. The dog escaped before the sentence could be carried out. Dog-lovers have filed a complaint against the court.
This story has it all. Religious zealots! Animal rights activists! Blood libel! Children! Ingredients that tend to nourish the more primitive regions of our minds and starve the rest. Best of all, it runs under 200 words and stars a dog.
The story's only deficiency is that it comes up short in the being-factually-true department.
As it turns out, the BBC, along with Agence France Presse, Time Magazine, and a handful other news outlets got the story from Ynet, the website for Yediot Ahronot, Israel's second-largest newspaper. Ynet's story says that the head of the court denied that such an incident had taken place, a detail that was left out of the original BBC, Time, and AFP stories. The paper is also alone in noting that there was no official ruling, just a rabbi telling kids to throw rocks at a dog.
---