Egypt's budding entrepreneurs get boost from US
A 'boot camp' for Egyptian entrepreneurs is one of a number of US initiatives to support economic and democratic reform. But not all Egyptians welcome the help.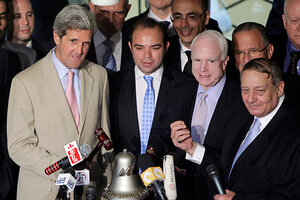 Amr Nabil/AP
Sitting in the banquet hall of a luxurious hotel on the banks of the Nile, Mohammed Kamal rattles off his ideas for new mobile phone applications. Among them: an app that will diminish Cairo's suffocating traffic and reduce government spending on fuel in the post-Mubarak Egypt.
"I think I just need to play my cards right," says the aspiring entrepreneur, sporting a striped shirt and khakis.
The young Egyptian software developer is a participant in this week's NexGen IT Entrepreneurs Boot Camp, a five-day training event to help budding Internet technology businesses. It is part of a broader American initiative to help develop Egypt's economy, particularly in the wake of the Feb. 11 revolution that ousted Hosni Mubarak.
US senators John Kerry (D) of Massachusetts and John McCain (R) of Arizona visited Cairo this weekend to underscore US support for economic and democratic reform, saying that it can help Egypt's revolution succeed.
"It's our hope that by providing for the economic future and well being of the people of Egypt that we will, all of us, be able to move more effectively down that road to peace," said Senator Kerry, adding that such reforms ultimately serve America's security interests.
The US has provided more than $50 billion dollars to Egypt since 1975, or an average of $1.38 billion per year – much of which has gone to military assistance. Since Mubarak's fall, a modest $150 million has been redirected to help with economic recovery and the transition to a more democratic state.
---