Iraqi deal in the works to suspend execution of Saddam-era officials
The indefinite hold on six planned executions of members of Saddam Hussein's regime could prevent a widening of political and sectarian rifts at a precarious time in Iraq.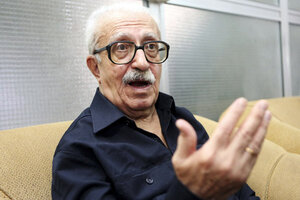 Hadi Mizban/AP/File
The controversial executions of some members of Saddam Hussein's former regime could be put on hold indefinitely, according to a deal taking shape between Iraqi political parties working to avert yet another political crisis.
The move would be a significant shift from an announcement by the Justice Ministry last week that execution orders could be signed in days and the men put to death this month.
The six former regime officials to be executed include former Deputy Prime Minister Tariq Aziz and five others handed over by the US military last week along with almost 200 other prisoners. The US had been holding the prisoners at Camp Cropper, its high-security penitentiary on the outskirts of Baghdad now primarily under Iraqi control.
"There are efforts made by some political blocs to bring about a way to avoid execution for some of those who have been sentenced to death – the efforts are ongoing," says Justice Ministry spokesman Haider al-Saade.
By suspending the execution orders, at least in the short term, the deal could prevent a widening of political and sectarian rifts at a particularly precarious time in Iraq.
Former Defense minister's execution most controversial
There is little quarrel among most Iraqis with hanging Saddam Hussein's half-brothers, Watban Ibrahim Hassan and Sabawi Ibrahim al-Tikriti, who were considered an integral part of the regime and sentenced to death two years ago for the 1992 executions of 42 Iraqi businessmen.
---