Syrian refugees describe violent crackdown, sectarian clashes
Syrian refugees from a Sunni village near Homs have taken shelter in a Lebanese border town. But their hosts are deeply uneasy about the unrest roiling Lebanon's powerful neighbor.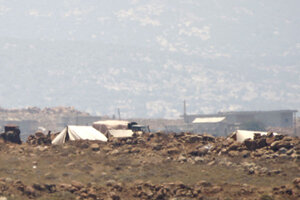 AP
This tiny wind-blown village in northern Lebanon has become a refuge for Syrians fleeing a crackdown by Syrian troops two miles away in Heet.
"We had to crawl through rocks and the soldiers were shooting non-stop to try and prevent people leaving and firing flares in the sky to try and see us," says Ahmed, a teenager who escaped four days ago with most other residents of Heet, using the cover of night to make a dash for the border. "It was very frightening. Small children were crying. It took us an hour to come here."
Although the residents of Knaysse sympathize with their Syrian friends and relatives from Heet and are happy to shelter them, they are careful to avoid public comment on the turmoil in Syria. They have no wish to jeopardize their cordial relations with the Syrian border authorities who allow them to cross the frontier to purchase cheap household goods in Syrian markets.
Such local ambivalence reflects more broadly the deep unease in Lebanon over the unrest roiling its powerful neighbor – an unease that stands in stark contrast to Turkey's highly organized refugee camps and outspoken criticism of President Bashar al-Assad's regime.
The opposition protest movement in Syria is mainly drawn from the majority Sunni population, which has cast a sectarian edge to the unrest and won the sympathy of many Lebanese Sunnis. However, the newly formed Lebanese government is close to the Assad regime and has tried to ignore the influx of a few thousand Syrians escaping crackdowns along the Lebanon border in the past four months.
---