Syria introduces law allowing independent political parties
The bill, approved by the cabinet yet awaiting agreement from Syria's parliament, is the regime's latest concession to protesters. But it includes some restrictions that could limit its impact.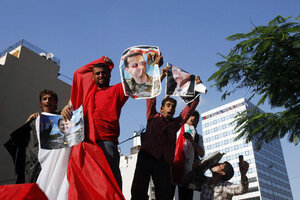 Jamal Saidi/Reuters
Syrian President Bashar al-Assad's cabinet yesterday approved a bill to allow independent political parties other than the Baath Party, which has ruled the country since 1963.
The draft law, which has been under consideration for many years, is due to be taken up by parliament Aug. 7. Its stated aim involves "enriching the political life, creating a new dynamic and allowing for a change in political power," said the state-run news agency SANA.
The move is the latest in a number promises aimed at denting Syria's popular four-month uprising, which represents an unprecedented challenge to the 40-year Assad regime. But even if the law goes into effect soon, its impact is likely to be limited.
SANA reported that the bill prohibits parties founded on the basis of "religion, tribal affiliation, regions, and professional organizations as well as those which discriminate on the basis of race, sex, or color."
Those restrictions suggest that Kurdish nationalist parties may not be recognized, along with the Muslim Brotherhood, a Sunni Islamist party currently banned in Syria.
In addition, Article 8 of the constitution stipulates that the Baath Party is "the leading party in the society and the state." Protesters have demanded that the article be appealed, but so far it remains in place.
Assad's concessions ill-received
Since the uprising began in March, Assad has made some concessions, such as lifting the emergency law that granted the state draconian powers, forming a new government, sacking some unpopular local governors, releasing detainees, and canceling the National Security Court.
Protesters and their supporters say that the concessions are undermined by the continuing crackdown by the security forces against the largely peaceful and unarmed protesters.
---