Syria assault on Hama signals hardened resolve on both sides
Syrian President Bashar al-Assad claimed victory over "warmongers" after his forces killed 100 in Hama. But the violence could incite daily protests during Ramadan, which begins today.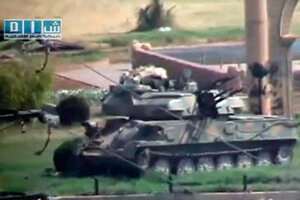 Social Media Website via Reuters
The Syrian regime and opposition protesters are bracing for what could be a defining moment of the nearly five-month uprising.
With the expectation that protests could become a daily occurrence during Ramadan, the month-long Muslim holiday that begins today, the state launched a preemptive assault over the weekend to assert its control in Hama. More than 100 people were reportedly killed in what appears to be one of the bloodiest days of the uprising to date, with President Bashar al-Assad praising the victory of his forces over "warmongers."
The assault, which killed a total of 140 people, was launched by the Syrian security forces against Hama – a northern city with a history of opposing the regime – and other towns and cities across Syria. It is a clear signal that Assad intends to use an iron fist against any dissent during Ramadan, analysts say. But the determination of the protesters also runs deep.
"The month will see very heightened activity, more intensity, more frequency [of protests]. I don't think either side is near the end of their capacities," says Paul Salem, the director of the Carnegie Endowment's Middle East Center in Beirut. "So I don't think there will be any conclusion. Clearly the regime has a lot of fight and staying power. The population and the [general] mood is not at all about to end or throw in any towels. This will be a month that takes us more vigorously toward something resembling civil war."
Daily Ramadan protests to test both sides' endurance
---
Follow Stories Like This
Get the Monitor stories you care about delivered to your inbox.