Tripoli neighbors help frightened survivors after massacre
The International Criminal Court is considering a new arrest warrant for Muammar Qaddafi's son Khamis after a massacre was discovered next to his brigade's barracks.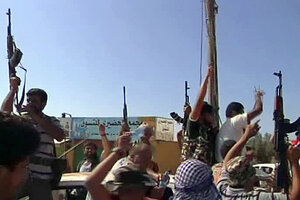 Associated Press Television News/AP
For four months, Nouri Massoud listened to the screams coming from the hangar across the street from his house at Khilit al-Ferjan in southeast Tripoli.
Mr. Massoud lives next to a barracks belonging to the notorious Khamis Brigade, named after the Qaddafi son who leads it.
"When the NATO bombing started, the barracks were no longer a safe place so the soldiers moved into houses in the neighborhood, and they set up a prison and interrogation center in that hangar," says Massoud.
It was there that a gruesome discovery was made on Saturday, when the fighting had subsided enough for the area's inhabitants to return.
An estimated 53 bodies, burnt beyond recognition, lay inside the hangar. They had apparently been massacred by Qaddafi loyalists shortly before they withdrew from the advancing rebel fighters.
The atrocity, documented by Amnesty International and Human Rights Watch, could become a key war crimes case – helping to shed light on the abuses of the Qaddafi regime, whether in Libya or before the International Criminal Court (ICC).
---