Palestinian statehood bid: Why Hamas has stayed on sidelines
Hamas has yet to officially declare its stance on the Palestinian statehood bid, to be launched at the UN this week. If the bid fails, the Islamist movement could expand its power in the West Bank.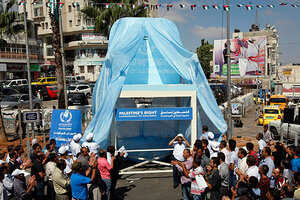 Majdi Mohammed/AP
As the Palestinian bid for statehood comes to a head this week at the United Nations, Hamas remains split on whether to support the controversial move.
The Islamist movement has long sought a Palestinian state, and its backing would be crucial for any such state to function. But amid a four-year rift with the Palestinian Authority (PA) led by Mahmoud Abbas, Hamas appears to be hedging its bets. A failure for Mr. Abbas could pave the way for Hamas to expand its influence in the West Bank, where it has long been suppressed by Israeli and PA security forces.
"It is worth a wait," says Talal Okal, Gaza-based analyst and columnist. "[Hamas leaders] will congratulate Abbas if his efforts are crowned with success, and of course will rebuke him if he failed. It's a smart strategy."
Hamas loath to back Fayyad's project
---